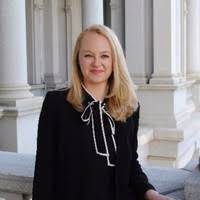 Katie Collins
Director of Policy, ACT for NIH
Prior to joining ACT for NIH, Katie Collins was the Program Director at the Biden Cancer Initiative, where she worked to enact programs and policies to accelerate progress in cancer research and care, and to reduce disparities in cancer outcomes.
During the Obama/Biden Administration, Katie served as the Policy Associate on Vice President Biden's White House Cancer Moonshot Task Force. From 2011 to 2016, she was the Deputy Director of Operations in the Usher's Office in the Executive Residence, where she managed daily activities on the White House complex, including supporting the President and First Family, overseeing media interviews and filming, and executing personal and official receptions.
Early in her career, she was a strategic planning consultant for Booz Allen Hamilton, specializing in human capital management and business process reengineering for the Department of Defense. Katie is originally from Cleveland, Ohio and graduated from Dartmouth College with a degree in History and Political Science.