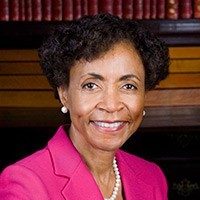 Bernadette Gray-Little, Ph.D.
Former Chancellor, University of Kansas
Bernadette Gray-Little was the first woman and first African American to lead the University of Kansas. Under Dr. Gray-Little's leadership, the university launched its Bold Aspirations Strategic Plan to foster research and scholarship across its campuses. In 2011, KU became a member of the Clinical and Translational Science Award consortium and the KU Alzheimer's Disease Center was designated by the National Institute on Aging. In 2012, the University of Kansas Cancer Center was designated as a National Cancer Institute Cancer Center.
Born in North Carolina, Dr. Gray-Little is a psychologist who did her graduate work at St. Louis University. Prior to joining KU, she served as the executive vice chancellor and provost for the University of North Carolina, Chapel Hill. She is a member of the Executive Committee of the Association of American Universities (AAU) and the Association of Public Land-Grant Universities (APLU). She is also a member of the Council on Foreign Relations.
She left her position as Chancellor in 2017.