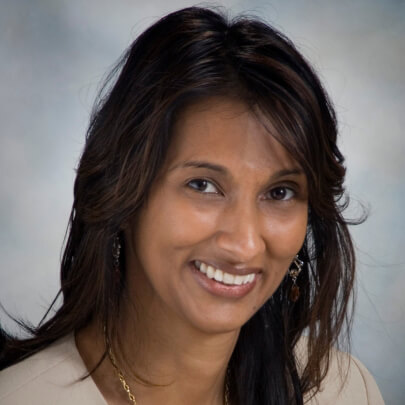 Padmanee Sharma, M.D., Ph.D.
Professor, MD Anderson Cancer Center, University of Texas
Padmanee Sharma is a professor of Genitourinary Medical Oncology and Immunology in the Division of Cancer Medicine at The University of Texas MD Anderson Cancer Center. She has participated in 54 research outputs since 1996, focusing primarily on immunotherapy in her collaborations with Dr. James P. Allison. Sharma is a Cancer Research Institute Investigator who has tested new prostate cancer immunotherapies, looking for differences in T cell subsets and function between pre-therapy blood and tissue samples versus post-therapy blood and tissue samples. She has won multiple awards during her career including the 2012 MD Anderson Cancer Center Faculty Scholar Award and the 2008 Melanoma Research Alliance Young Investigator Award. With Allison, Sharma is exploring combinations of immunological therapies and targeted drugs in preclinical studies to more effectively treat a variety of cancers.