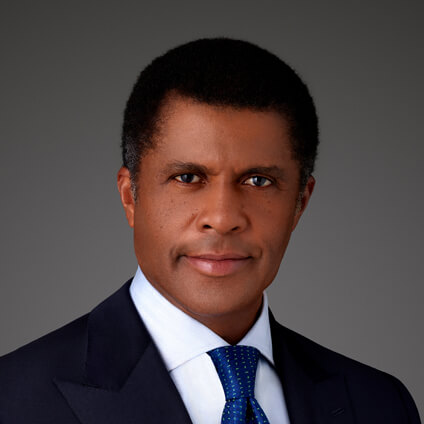 Phillip O. Ozuah, M.D., Ph.D.
President and CEO, Montefiore Medicine
Dr. Ozuah is the President and CEO of Montefiore Medicine, the umbrella organization for Montefiore Health System and Albert Einstein College of Medicine. A nationally recognized physician, leader, executive, researcher, teacher and author, Dr. Ozuah previously served as President of Montefiore Health System. A National Institutes of Health (NIH)–funded researcher and award-winning educator, he also served as Professor and University Chairman of Pediatrics at Albert Einstein College of Medicine and Physician-in-Chief of Children's Hospital at Montefiore (CHAM).
In these roles, Dr. Ozuah expanded access for underserved communities, recruited and cultivated outstanding talent, advanced programs of excellence, fostered innovations in medical education, and improved financial and operational performance by integrating care across a rapidly growing and evolving Montefiore system that sees over six million patient interactions a year. Under his leadership, Montefiore Health System's specialties ranked in the top 1 percent of the nation's hospitals, and CHAM was recognized as one of "America's Best Children's Hospitals" according to U.S. News & World Report.
Dr. Ozuah has been recognized locally and nationally for excellence in teaching and patient care, including as an inductee into the Alpha Omega Alpha Honor Medical Society and a two-time recipient of the Academic Pediatric Association's prestigious Helfer Award for Innovation in Medical Education. Along with his various awards for teaching and clinical excellence, Dr. Ozuah has also been recognized by Modern Healthcare as one of the "Top 25 COOs in Healthcare."
Dr. Ozuah earned his medical degree from the University of Ibadan, Nigeria, a Master's Degree in Education from the University of Southern California and a PhD in Educational Leadership and Administration from the University of Nebraska–Lincoln. He completed his Pediatric Internship and Residency at Albert Einstein College of Medicine and Montefiore, and his Post-Doctoral Fellowship in Medical Education at the University of Southern California School of Medicine.